Fifteen Important Questions you must ask a Prospective Web Design Company: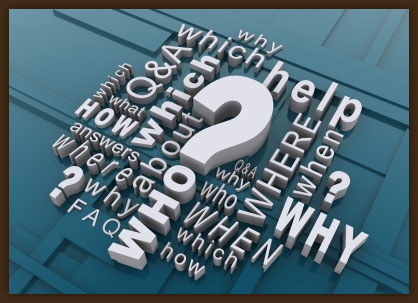 The Internet is too competitive a landscape for your business or personal image to take a chance on a web designer that doesn't have a proven track record.We stand by our business expertise and professionalism and to help you navigate the tricky business of engaging a Web Design Company we have compiled a list of questions that will help you select the best company for your needs – however large or small. At WebManLA.com we are always here to help.
1. Do you custom design or use templates?
Some companies only use templates; others only do custom design work. At WebManLA.com we are able to leverage both approaches. Templates are a great way to get a start up business online fast for minimal cost. To other clients, presenting a unique internet presence is vital. Whatever your needs, call us we can tailor make a solution to fit all circumstances.
2. Are your designs tested for multi-browser and cross-platform compatibility?
A designer should at least create their web sites so that the content and layout looks relatively the same on Firefox 2, Firefox 3, and Google Chrome and Internet Explorer 7, Explorer 8, Safari and on Apple Mac's as well as PC's. Ask us how tests will be made to be sure your website will display correctly.
3. Do you have sales or marketing experience?
The best designers are creative people who are able to *sell* things with their design concepts. Make sure you hire a company that has sales and marketing expertise to be your designer. We believe our extensive knowledge in these fields sets us apart from our competitors.


4. Do you offer any Internet marketing services?
A Website and Internet strategy should have one main purpose and that is to achieve business growth in one way or another. We can optimize your site for search engines and go through the submission process for you.


5. Will you create a logo for my site too?
Most web site designers will offer logo creation as an additional service. Logos are becoming increasingly important on web sites as a branding issue. If you have a brick-and-mortar store, you could get by with a neon sign with plain red letters. On a web site, however, the logo needs to have a graphic appeal that matches your message. Ask about out custom logo services.


6. Who will own the site design when it's done?
You should always own your web site design. Be aware that designers are legally able to claim their designs as their own copyrighted work. Negotiate these terms in advance and make sure that you will own all original artwork. With WebManLA.com you ALWAYS own all the design elements.


7. Do you offer maintenance training?
If you are not familiar with the HTML editor used in the creation of your website, or making changes to content through a live CMS system, ask us about our custom training packages. You can also get one of our web maintenance plans if you don't want to deal with the codes.
8. Do you charge by the hour or by the project?
This is something very important to understand about design work. We generally provide quotes on a complete project basis and set out clearly exactly what that includes. Hourly rates, when it comes to design, should be expected when you want design or other website amendments at a future stage.
9. How visible will our site be to search engines such as Google?
Google in particular, and search engines more generally are the single greatest source of traffic for most web sites. While there are many tricks and techniques for increasing search engine visibility, there are some basics that many sites simply don't get right. The majority of sites we build are 'Google Friendly' and we also submit your site to all of the commonly used search engines.


10. What do I (The Client) have to provide?
Usually clients will have to provide the text, images, and feedback. If you cannot provide these, we offer services to purchase stock photos and copywriting services on your behalf.


11. How do we communicate about this project?
Experience has shown us that communicating by email is usually more convenient and more effective, however, we are always available if a client feels they can express their needs better by telephone.


12. How long will it take?
A typical small business website takes up to a month. It usually depends on how involved the client is.


13. Do you provide hosting?
Companies that can provide this will usually give you a discount for having them design your website. At WebManLA.com we provide free hosting for six months for most web design projects.
14. Do I have to host my website with you?
The answer should be NO. If their web hosting ever becomes unreliable, you should have the right to have your website hosted elsewhere. Many of our clients already have an existing hosting service provider – just give us access and we can get started!
5. Are you able to create online shopping carts?
If you plan to do e-commerce in the future, a web design company should have the resources to provide this service. We utilize the best e-commerce technology available to build robust and attractive e-commerce sites.